HAITI : Tropical Storm "Jeanne" (21-24 September 2004)

BRIDGES STATUS
---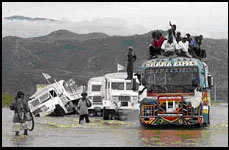 Bridges status after the tropical storm "Jeanne" in the départements of "Nord-Est" and "Artibonite" has been assessed by analysis of :
the terrain corrected RADARSAT-1 time series of images;
the change detection maps.
The table below summarizes the results of this analysis.
A location map (in UTM cartographic projection) for the bridges, at a spatial resolution of 75 meters x 75 meters is provided at the end of the present page.
Geographic Location of Bridge

Bridge Status
UTM Northing
UTM Easting
"Les Trois Rivières"
2177288
754480
intact
2174363
744655
destroyed
2176793
741805
damaged
2175548
742690
destroyed
2177153
741745
destroyed
2184818
732520
destroyed
2187368
730645
damaged
2188928
730135
destroyed
"Département Nord-Est": South Coast
2171693
696820
intact
2173598
696010
damaged
2162723
721630
destroyed
Around Gonaives
2151008
745870
intact
Rivers around Villard
2136008
749620
destroyed
2135888
749380
intact
2136383
747055
intact
2136803
746410
damaged
2136833
745375
intact
2136218
745165
intact
2135033
744760
intact
2134598
743350
intact
Artibonite River
2130128
738655
destroyed
2126993
745195
damaged
2127098
745120
damaged
2123408
745570
intact
2127143
748720
intact
Location map :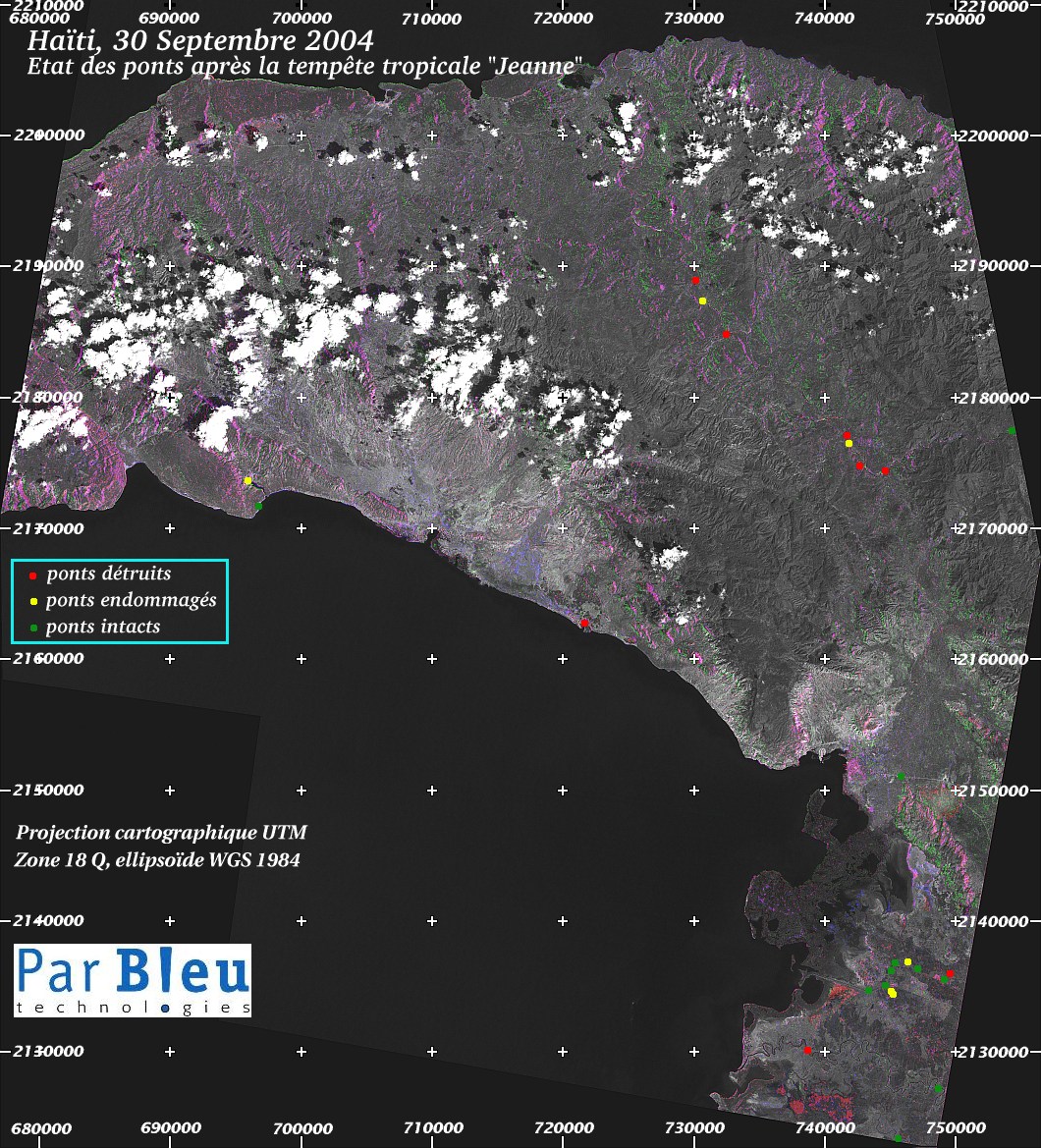 ---
Produced by PARBLEU TECHNOLOGIES Inc. under mandate of the CANADIAN SPACE AGENCY.
(Standing Offer for Disaster Management Information Products and Services; PWGSC File Number 9F028-014927/008/ST)
Procurement of the original RADARSAT-1 SAR data: Canadian Space Agency and Radarsat International Inc.
Procurement of the LANDSAT-7 ETM+ image: Courtesy of the University of Maryland, Global Land Cover Facility
Copyright (C) PARBLEU Technologies Inc., October 2004